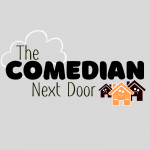 Please join us in praying a hedge of protection around the Comedian's recording equipment. Welcome to our table–where Tabby is just getting back from an appointment with her newborn, Warren. We're pretty sure this lip-tie surgery is going to cure ALL of his future ailments.
Tabby hasn't had Facebook for over a year, so she hasn't seen our dad's recent posts. So, pull up a chair what while we fill her in on all the things we've been discussing on social media this week…
Every time you laugh at a man dressed as a woman, a Trans Girl gets more afraid to come out!
John agrees wholeheartedly.
Laughter is a good way to determine whether you need to examine your beliefs for hidden stupidity. Humans don't decide what is funny; GOD decides what is funny.