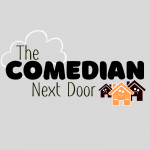 Welcome to the kitchen table of The Comedian Next Door. Please don't mind the heavy machinery tearing down perfectly healthy trees in our backyard. We're not happy about it–but we don't have much say when the government decides to be destructive.
There was some drama in the network this week on the topic of baptism, so we need to take our turn beating the horse. Does "baptist" theology lead to transgender ideology?
On this episode:
-If we want to IMPACT the culture, we must be prepared to take some responsibility when our IMPACT isn't a good one.
-How do we label the smaller subset of Christians who promote individualism and making PERSONAL DECISIONS for Jesus? (Should we call them "baptists?")
-We must pause to manage the crying child…
-Lots of children have gone to Church Camp and "made a decision" to identify as a Christian only to turn around two years later and "identify" as the opposite gender. Coincidence? Maybe.
-Look at the way parents often shrug and say "we did our best, but we can't control our kids." If they won't take responsibility for the way their kids turn out, then who will?
And more!
We want to see you at the FLF Conference, October 6th-8th in Knoxville. Details at flfnetwork.com. Also–if you've ever wondered what it would be like to go on vacation with a bunch of comedian friends, we have a GREAT opportunity for you. Visit johnbranyan.com to learn more about VACAY WITH COMICS, coming July 2023.
Email the Comedian and his family at: [email protected]