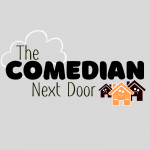 The Comedian and The Peaches are talking about heartrate and stress. Apparently, it's possible for your body to be stressed without your mind being aware of it. Who knew?
We always talk about not being able to trust our emotions, but we can't always trust our thoughts and perceptions, either…
Sometimes the tasks that would be stressful for others actually calm us down. That's our comfort zone! But sometimes we have panic attacks on airplanes.
Next, John makes a few confusing announcements about when he'll be performing at Gutty's comedy club. (He's appearing at the Minneapolis Gutty's on April 22nd and 23rd, and the Indianapolis Gutty's on April 29th and 30th.) Also, the Peaches sees a bug on the wall.
Then, John's dental hygienist asked for his opinion about the infamous Chris Rock and Will Smith Slap, so he shares that opinion with you, Neighbor Pkarlgh! Basically, the people of Hollywood are not doing very well!
Being unable to handle Mean Words is a sign of personal weakness. Don't be so easily stressed by your surroundings that you can't control your actions.
Finally, what would possess Joel Osteen to block other Christians from critiquing his sermons? (Also, we're still trying to meet Mike Winger. If you know his people, put in a good word for us.)
If you'd like to support the show, visit johnbranyan.com and join The Comedy Clique. You'll get exclusive access to our Telegram group and private game nights and more! We'll be at the Fight Laugh Feast Conference in October. More details at flfnetwork.com .