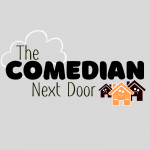 Welcome to the table of the Comedian Next Door! Sometimes our kids are afraid of strange/funny things and we spend 10-15 minutes telling the stories. (Hot Tip for potty training: let your toddler run around pantless!)
What scared you when you were young? Was it a creepy clown painting or non-existent bugs in your bed?
Also: have you noticed the Texas Roadhouse logo kind of looks like a rabbit, if you look at it veeeeeeeery carefully. Come find us at the Fight Laugh Feast Conference in October, and we'll have Cami show you!
Then: People are very offended at the idea that men become kings of a tiny kingdom when they get married. If you don't know why, then you're part of the problem.
Later: Everybody in Moscow seems to be obsessed with warfare! (And that includes the critics, who are more than ready to show up and fight.)
Finally, the Peaches sent an email to an app developer letting them know that abortion is NOT healtcare. If you'd like to email the same company, the address we used was: [email protected].
We'll see you in Knoxville October 6th-8th!