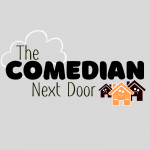 Welcome to the Comedian's house, where we spent the afternoon recording new intros/outros for your listening pleasure! The four McBabies complicated the process juuuuuust a bit. Write us at [email protected] to let us know what you think.
Next, we've been discussing the problem with creating brand new content every, single day and never stopping to promote or share the content with a wider audience. Most people are intimidated by a blank page and a blinking cursor. But John PREFERS to start from scratch every time he sits down at his computer. He hates having to say the same thing more than once.
Has he written/spoken millions of words? Yes. Has he written BILLIONS? Well, apparently that would be almost impossible… We spend a long time debating this.
But–the point it: we believe God gives us the ability to communicate, and we want to be good stewards of our resource. The observations, devotionals, jokes, and blog posts that John wrote ten years ago are still gifts from God that we can share today! …even if we'd rather say something "new and fresh."
To drive the point home, the Peaches reads some of John's old jokes that he DOESN'T EVEN REMEMBER WRITING.
Later: sometimes we get angry emails from people who don't know how to unsubscribe from the John Branyan website… Somehow, this discussion leads to contacting a famous friend and blaming him for a personal problem.
Finally: We give a quick update on the World's Dumbest Woman–which is actually a character we've created named "Pkarlina." (Pronounced "Carlina.") What's she up to now? Well, she divorced her husband and started dating the world's most vulgar, irresponsible man… and all her church friends are SO happy for her!
Enjoy our new outro, Neighbor Pkarlgh! Follow John Branyan on YouTube and Facebook, and we'll see you next time! (Poop.)