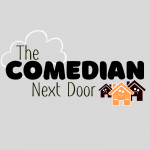 John's a little under the weather, but he's going to soldier on! It's very, very hot in our neck of the woods, and it's reminding us of happy childhood memories, digging holes and making "Mixtures." Those were the days, right?!
Next: John tells us his idea for making Pride Parades into "family friendly" events. But the Peaches is worried his idea might be a little too much fun…
Finally: the Atheists are swarming on John's Facebook page. You can go look at some of their comments, but don't spend too much time trying to climb inside their heads and think like they do. It's hellish in there.
If you'd like to connect with the Comedian and his family, you can email [email protected] . We're going to be hosting another Vacay with Comics in July of 2023! Please be on the lookout for details on our website (johnbranyan.com) ….but cut John some slack because it's really hot up in the attic where he works.