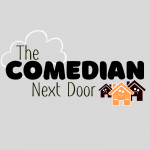 When you're a member of a comedian's family, everyone wants to know: "Is he funny at home?!" Four years ago, we decided to turn on a recorder so you could judge for yourself. Now that we're moving our podcast to a new "neighborhood" on the Fight Laugh Feast Network, we do our best to introduce ourselves with clarity and enthusiasm. (Spoilers: we fail miserably.) Ice-breakers are awkward, and we'd rather skip the First Impressions so we can jump straight to being Old Friends. But just bear with us, New Neighbor. If you give us time, we think you'll really like having a Comedian Next Door.

Email questions/comments for the Comedian Next Door to: [email protected]
Subscribe to the John Branyan channel on YouTube and watch the Starving Comics Quarantine Show LIVE every Sunday at 7:00pm Eastern.
Be sure to download the Fight Laugh Feast app for more great FLF content!