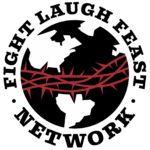 Hi, Neighbor Pkarlgh! (That's you, Listener.) Give us a moment to fix our mics and grab a glass of water.
John wrote something about an Atheist Chaplain at Harvard, and it was shared on Facebook more than 130 times… We confess to being a little surprised by how surprised Christians seem. This is not our first time encountering "Atheist Spiritual Guides," but apparently it's a new concept for many of our brothers and sisters. (If you'd like to see the Atheist Eulogy John wrote in 2016 to honor a godless chaplain, you can click here: https://johnbranyan.com/flexing-my-hopeless-muscles/ )
For several decades, Christians have been more interested in having a nice "dialogue" with non-believers than they are interested in actually CONVERTING them to Christianity. As a result, Christians are platforming godlessness and thinking that's what Christ wants!

A fool's response to the news of an Atheist chaplain: "I actually think it's an important move. [The Chaplain] oversees all faiths, including Humanism. Many young people, turned off by the political weaponization of Christianity, are avoiding organized religion. However, they are still seekers and will eventually seek comfort somewhere. Who knows? Creating an open-minded space for discussion may provide just the right environment to invite students back to organized religion."

Eventually, John reads some mail from you, Pkarlgh. You made us laugh this week! There's a T-Shirt that John wishes he owned. Then the Peaches shares a brief story about a deli employee who can't spell.
Are masks and vaccines worth dying over? And, more importantly, is a vaccine too much to ask in exchange for seeing ADAM LEVINE?!… All this and more, Pkarlgh. All this and more.

Send your questions and comments to [email protected] We'll see you at the Fight, Laugh, Feast Conference September 9th-11th! Details at flfnetwork.com.

See you next time, Neighbor!