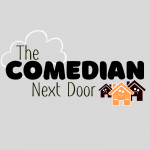 John and the Peaches are sitting at the table with mugs of tea. But no sugar for John, Please! He is deeply invested in a fad diet–and it's taking over his dreams.
Since you're at the Comedian's house today, you can help us get ready for Family Camp next week. John is scheduled to deliver four talks, plus games and activities, so we need to figure out which topics to cover with the campers. (Somebody grab a pen and write this stuff down!)
-Comedy is able to thrive in families because of shared contexts/experiences. There are lots of opportunities for "inside jokes" and call-backs!
-Good improv works because comedy is built into the game… and guess Who built comedy into the Game of Life?
-In order to do comedy better, learn to ask lots of questions.
-Tell kids the truth… (You have to understand what's true in order to make jokes about it.)
If all of this seems a bit disjointed and random, it's because we still have some polishing to do before next week! What else should we cover in our presentations, Neighbor? Which bits of wisdom/advice from The Comedian have been most helpful to you?
Send us your recommendations: [email protected]
Also, visit johnbranyan.com for information about VACAY WITH COMICS 2023. We're going camping with a bunch of John's comedian friends, and we want your family to join us.