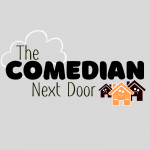 The Peaches is having one of "those" homeschool days. Emmi (5-years-old) requires some discipline right off the bat. A listener asks John whether he can trust his sense of humor considering humans are sinful creatures. And we unpack the reasons we shouldn't take ourselves too seriously. This results in possibly the best analogy about our relationship with God that we've ever stumbled upon!

Email questions/comments for the Comedian Next Door to: [email protected]
Subscribe to the John Branyan channel on YouTube and watch the Starving Comics Quarantine Show LIVE every Sunday at 7:00pm Eastern.
Join us for Vacay with Comics in August! (Details at johnbranyan.com)
Be sure to download the Fight Laugh Feast app for more great FLF content!