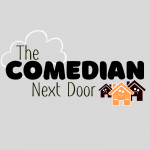 Good Grief! We help a listener find humor in chronic pain that resulted from military service. The Peaches shares about the first time one of her blog posts caused social media outrage. Related: weddings would be much more interesting if the vows were written for honesty rather than poetry. Finally, John criticizes Tim Keller, but The Peaches isn't convinced he picked a good "hill" this time. Let us know if you agree!

Email questions/comments for the Comedian Next Door to: [email protected]
Subscribe to the John Branyan channel on YouTube and watch the Starving Comics Quarantine Show LIVE every Sunday at 7:00pm Eastern.
Join us for Vacay with Comics in August! (Details at johnbranyan.com)
Be sure to download the Fight Laugh Feast app for more great FLF content!