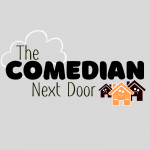 This is the first OFFICIAL episode of The Comedian Next Door–if you don't count the Super Secret Alpha Test Episode. (Which we don't.) We're immediately interrupted by a phone call from a fellow comedian friend. Then we discuss various reasons a person may intentionally look ridiculous in public, including a family story about Tim (John's son–Peaches' brother) wearing something that didn't belong to him, just for laughs. Finally, John proposes a hill to die on and invites you to join…if only we can sort out the official documents.

Email questions/comments for the Comedian Next Door to: [email protected]
Subscribe to the John Branyan channel on YouTube and watch the Starving Comics Quarantine Show LIVE every Sunday at 7:00pm Eastern.
Join us for Vacay with Comics in August! (Details at johnbranyan.com)
Be sure to download the Fight Laugh Feast app for more great FLF content!