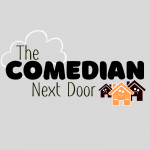 Welcome to the kitchen table of the Comedian Next Door. When you're here, we affectionately call you "Neighbor Pkarlgh." The Comedian's family is gearing up for a Christmas-and-New-Year's hybrid celebration, and we have a lot of preparations to make. But first, let's talk about the sin of speaking without thinking carefully first…
Have you noticed that many, many people take their ability to communicate for granted? Too often, they say things they don't actually mean because they don't THINK about the words they're using.
When the Bible warns against unwholesome talk or filthy language, we don't think it's only talking about 4-letter words. What about carelessly saying "God bless you" when someone sneezes? Or carelessly saying "Amen" in response to a worldly opinion? If you make a habit of speaking without thinking, you might end up praising the name of Lauren Daigle! (You'll just have to listen to the episode to understand that reference, Neighbor Pkarlgh.)
By the way, it's cold today. But it's not as cold as it could be…
Support John's comedy by visiting johnbranyan.com!