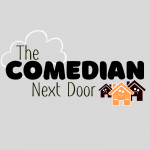 Hey, Neighbor! Pull up a chair because we've got a cute story about kids at the Bubble Show. The Kingdom of Heaven is made up of such as these…
Then: A survey of parks in our hometown. Maybe this isn't interesting to anyone else–but you can Google "Jackson Morrow Park Kokomo" and confirm we're TELLING THE TRUTH about this!
Later: John got into some trouble suggesting that women shouldn't be "comedians" the same way men can… Allow him to clarify. Eventually, he admits the women in his family are very funny, which prompts the Peaches to share a story about the dream she had. (One word: Ants)
Finally, go check out Facebook and see the horde of angry trolls on John's page. How the heathen rage when Christians celebrate life.
—-
We want you to come on vacation with us! Visit johnbranyan.com for more information about Vacay with Comics.