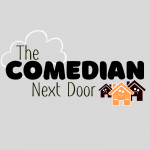 Every Sunday at 7:00pm Eastern, four Christian entertainers host the best LIVE YouTube event of the whole week! It's called the Starving Comics Quarantine Show.
If you haven't been tuning in for the live broadcasts, here's a little sample of what you've been missing…
On this episode, Juan DeVevo is out on the road and Jt's keyboard crashed. (This is why we have a sound check!) We have a special guest: Kristin Weber! She's an expert on Adulting for Jesus.
John surprises Jt with something that will change the course of the entire show. And, later, we play a new game called "Channels," which makes a lot more sense when you can SEE the television.
If you're ready to watch this show live, subscribe to the John Branyan YouTube channel and tune in every Sunday evening! Also, consider supporting content like this by visiting johnbranyan.com and joining the Comedy Clique.