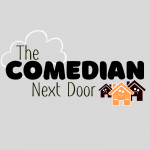 Every Sunday at 7:00pm Eastern, four Christian entertainers host the best LIVE YouTube event of the whole week! It's called the Starving Comics Quarantine Show.
If you haven't been tuning in for the live broadcasts, here's a little sample of what you've been missing…
On today's episode, we're trying not to violate YouTube's dumb copyright laws. Let us tell you our tale of woe about how we keep getting flagged for our parodies, which are supposed to be protected under Fair Use. Then, later, we play a new game where we have to deliver inspiring speeches, using a slideshow we've never seen before.
It's better when you can SEE the action, so you should tune in next Sunday on John Branyan's YouTube channel and be part of the show.