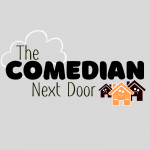 Every Sunday at 7:00pm, John Branyan goes LIVE on YouTube with the Starving Comics Quarantine Show. He's joined by Brian Apprille, John thomas Oaks, and Juan DeVevo, of Casting Crowns.
Here's a sample of SCQS.
During the sound check, the men discuss kombucha and keifer. (Points if you alredy know how to pronounce both of those.) Cue the theme song!
On today's episode, Brian is out of town, but he joins us in the comment section. Juan and Jt Oaks talk about doing shows in barns… And later Jt debuts a brand new song about traveling through Atlanta. GET US OUT OF HERE!
Finally, we play a game where you have to identify what's missing in the picture. It's much better when you're able to WATCH rather than just listening. So–maybe consider following John Branyan on YouTube and joining us LIVE for the next episode of SCQS!