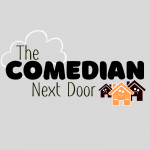 Every Sunday evening, at 7:00pm Eastern Time, John Branyan and his funny friends host a LIVE comedy show on YouTube. If you're not watching the Starving Comics Quarantine Show, here's what you've been missing…
John thomas drank a lot of coffee before tonight's show. He does his best James Cagney. And later, Brian Apprille teaches everyone how to speak like a Bostonian PROPERLY. Also featuring: Juan DeVevo, founding member of Casting Crowns. And John Branyan–the Original Starving Comic.
Follow John Branyan on YouTube and enable notifications to watch SCQS LIVE and see if it looks as good as it sounds. Live comments are featured on the show!