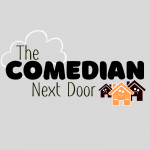 We've been informed that our Neighbor (Pkarlgh) wants to come over and visit MORE OFTEN. So we're putting out bonus content on Thursdays.
Please enjoy today's table talk with John, the Peaches, and the Podcast Ninja (Luke). We'll tell you how to make yeast rolls that will offend your grandmother… and how to make marshmallows… and how to make cotton candy in the most entertaining way possible.
Also, please let us know if you're interested in our Racoon-Trapping Kits. We're ready to make some money!
Email: [email protected] to interact with us.
Thanks for visiting, Neighbor!