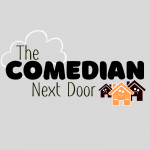 The Peaches doesn't want to talk about Brood X. Some listeners actually took us up on the offer to write their "honest wedding vows," so we share the resulting masterpieces! Then–the Good Grief segment features a story about stillbirth/child-loss. Is the world ready for parents who include laughter as part of the mourning process? Next–the Peaches pleads with humanity to get in the habit of saying true things (for crying out loud). And finally, John invites you to die with him on yet another hill. Are we too quick to label our opinions as "biblical truth?"

Email your questions/comments to [email protected]
Subscribe to the John Branyan channel on YouTube and watch the Starving Comics Quarantine Show LIVE every Sunday at 7:00pm Eastern.
Join us for Vacay with Comics this August! (Details at johnbranyan.com)
Be sure to download the Fight Laugh Feast app and enjoy more great FLF content.