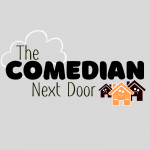 Welcome to the kitchen table of the comedian next door! All the kids are here, making a joyful noise next to the recorder. But we're not going to "shush" them unless/until they do something wrong…
This week, we learned that we are the reason some people don't want to come to church. And what have we been doing to cause them to be so completely repulsed?
We've been laughing! (The horror.)
There is WAY TOO MUCH SADNESS in the world for Christians to spend any time being funny. Do you have any idea how many traumatic experiences happen in churches?! We have so much crying to do and so little time… Stop smiling! This is serious!
If you'd like to contact the Comedian, email [email protected] Also, consider supporting the show by visiting johnbranyan.com and joining the Comedy Clique. We'll see you at the Fight Laugh Feast Conference in October! (Details at flfnetwork.com)