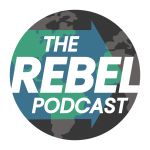 Description:
This week we have a special and unique episode on the road with P Nate and Pootie as they head for a worship/protest event organized by several Ontario pastors defying tyrants through public worship.
Pastor Nate along with Aaron Rock, Jacob Reaume and Michael Theisen organized "Worship in the Square" on Sunday March 30th at Waterloo town square.
The event can be viewed in full here: https://www.facebook.com/BLNewsMedia/videos/1144840282651731/
This episode includes intro and debrief in the car with P Nate and Pootie as well as a few interviews at the event.
Join the rebellion by sharing and inviting your friends to like the content on facebook: facebook.com/rebelpodcast or by supporting us through patreon at patreon.com/reformedrebel