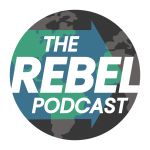 Should We Cancel Canada Day?
P Nate and Pootie were getting ready to celebrate Canada Day when everyone started calling for the CANCELLATION of all Canada Day celebrations! Why? Is it because of the growing tyranny and imprisonment of pastors? No, because of the Residential School Scandals.
How should Christians think about the whole Residential School Business? How should we think about celebrating Canada when so much is wrong in our nation? Would the Bible call us to fasting or feasting in this situation?
Join the Rebels as they delve in!
To support the show you can become a Fight Laugh Feast Club Member here: flfnetwork.com/membership/
You can also join the rebellion by sharing and inviting your friends to like the content on facebook: facebook.com/rebelpodcast or by supporting us through patreon at patreon.com/reformedrebel