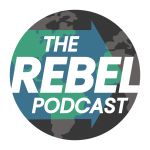 One of the questions we seem to get a lot these days is a speculative question asking what we think the next several years/ decades will look like in North America, and more specifically here in Canada.
It is no secret that things have been rough. The last two years we have seen: Lockdowns that not only caused depression, anxiety, domestic abuse, drug overdose, pornography addiction and a host of other issues to skyrocket, but we saw the doors to churches closed so those affected could not get the help they needed; Government overreach and corruption sail to new heights; Small businesses destroyed, livelihoods taken, critical race theory infect every area of social, educational and political life, vaccine mandates take away freedom over invasive medical decisions and the list goes on…
First of all how does this trajectory fit together with a theology of historical optimism? And secondly, how do we see the next few years playing out in the culture?
To support the show you can become a Fight Laugh Feast Club Member here: flfnetwork.com/membership/
You can also join the rebellion by sharing and inviting your friends to like the content on facebook: facebook.com/rebelpodcast or by supporting us through patreon at patreon.com/reformedrebel