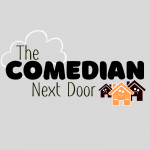 Welcome to the table, Neighbor Pkarlgh! The Peaches had an epiphany this week regarding how important it is for the human body to have food. Isn't it crazy the way the sun rises every morning–and putting nutrients in your stomach can change your life?
But let's remember: people are not just physical creatures. We have minds and souls as well.
Later: Would you criticize a fat person at the gym? It's hard to wait for God to reveal the same things to other people that He has revealed to you…
Then: Are we encroaching on Relativism over here??? Or are we simply realizing a Truth about the "living and active" nature of Scripture?
Finally: Ecclesiastes seems really depressing… But, with the right perspective, it's actually encouraging. "NOTHING MATTERS–EVERYTHING IS MEANINGLESS!" It reminds us of John's saying, "Life is a joke."
Reach out to us by emailing [email protected] Join us at the Fight Laugh Feast Conference in October! (Details at flfnetwork.com) Tune in to the Starving Comic's Quarantine Show on the John Branyan YouTube channel!