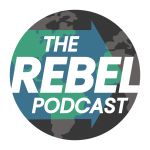 P Nate and Pootie are back in Garage-Mahal ready to defend not only the theological orthodoxy of theonomy but of friend and mentor Dr. JOE Boot.
A lot has been said over the last year and much criticism has been directed at Joe, the Institute and Theonomy as a whole. Is it warranted? Is theonomy dangerous? Do those hurling insults even understand the position?
… or is it not really about theonomy at all?
You can also join the rebellion by sharing and inviting your friends to like the content on facebook: facebook.com/rebelpodcast or by supporting us through patreon at patreon.com/reformedrebel