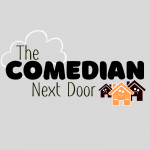 What do you think, Neighbor? Should John record another Dry Bar special?
Either way, let's talk about why John keeps posting about Modesty on social media and triggering the "bossy" Feminists…
We don't live in a Patriarchy anymore. So, when you discover certain words/topics you're not allowed to say, it's not a bad idea to keep your finger on that nerve.
Our culture keeps telling women to "be themselves," but what does that even mean?
Next: the Peaches has some very good news! More and more Christians are becoming as grumpy and cynical as she is! Hooray! There seems to be a shift among our brothers and sisters, as if the bulk of the Church now has almost as much experience dealing with trolls on social media as we did 10 years ago!…
Also: if you want to help the Feminists kill John using an obscure Medieval torture device, then B.Y.O.E.
Finally: how should we react when those few (but loud) non-believers show up to spout foolishness? Do we respond at all? Here's a quick reminder about Bully Management 101.
If you enjoy being part of the conversation, consider also being part of the Clique! Visit Johnbranyan.com to support more John Branyan content. Also–if you're not already part of the Fight Laugh Feast network, visit FLFnetwork.com to get plugged in. The FLF Conference is happening in October! Be there or be square.