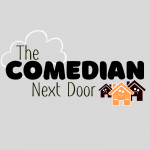 The almost-11-year-old Cami joins us at the table to talk about how hard it can be to get along with a brother who changes "The Plan" at the last minute. She shares a story about an Easter dispute that could have put a damper on our family's celebration. But–by the grace of God–Cami was able to do the right thing and get back into fellowship with Collin.
Enjoy this shorter episode for your mid-week visit to the Comedian's house.
If you enjoy the show, consider supporting The Comedian Next Door by joining the Comedy Clique. Details at johnbranyan.com.