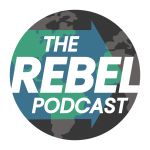 One of the most used and yet most misunderstood passages of the last two years is Romans 13:1-5 – BUT what about all time? Well, we think understanding the new heavens and the new earth ranks pretty high up there.
Most Christians believe we are waiting for the new heavens/earth to be created after this earth is destroyed! If that's true, is heaven going to be destroyed too? Is that how the new testament uses the word "new"? And why does Isaiah say that people die on the "new earth"?
We have questions! And hopefully some answers too!
To support the show you can become a Fight Laugh Feast Club Member here: flfnetwork.com/membership/
You can also join the rebellion by sharing and inviting your friends to like the content on facebook: facebook.com/rebelpodcast or by supporting us through patreon at patreon.com/reformedrebel